South Florida's Premier Provider of Pool Safety Products
For over two decades we've helped keep South Florida's kids and pets safe!
A removable pool safety fence from Pool Guard, professionally installed by Florida Pool Fences, will give you the peace of mind knowing your kids and their friends (and your pets too!) are safe! When it comes to securing your swimming pool, a Pool Guard pool safety fence, available in a variety of colors, is a fantastic option!
Fences Installed within 2 Weeks
If you're looking for an absolute lockdown of your pool, the pool safety cover is ideal. Whether you want to shut it down for a period of time, or use your pool periodically, the safety pool cover will do the job and more. It's like putting armor over your pool, it's nearly impossible to get in.
Pool Safety Nets are another effective barrier to pool entry that minimally impacts the look of your pool. The nets have openings of abut 3.5 inches, plenty to prevent a child's head and body from going through. The nets are low profile, merely inches above the water, and are often colored blue to match the color of the water, making them nearly unnoticeable.
About Florida Pool Fences
Nobody has secured more pools in South Florida than the pool safety professionals at Florida Pool Fences. As the exclusive dealer of the entire line of Pool Guard pool safety products, we specialize in protecting your kids, pets and others from accidental drowning in your pool. With decades of experience, we will help you choose the right pool safety barrier for your home. Whether you choose Pool Guard's best-in-class removable pool safety fence, a pool safety cover that also keeps out unwanted leaves and helps conserve water, or a pool safety net to secure your pool, let the Florida Pool Fences team guide you through your options and provide you with a free estimate to secure your pool.
Proud To Be A Part of Pool Guard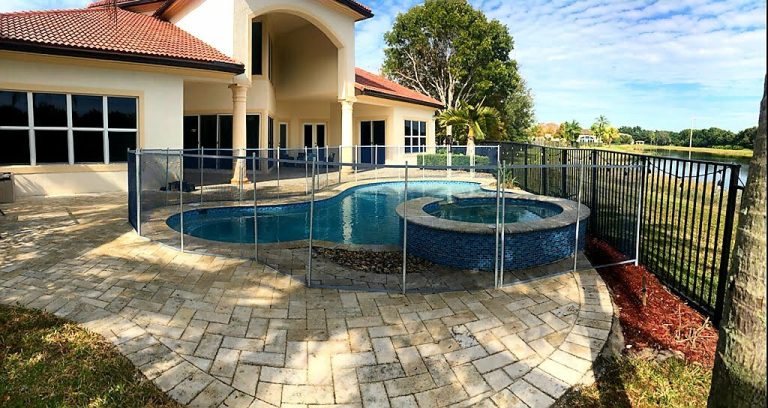 Pool fence shopping can be a daunting task if you don't know where to start. You know the rudimentary ABCs as to why a
Read More »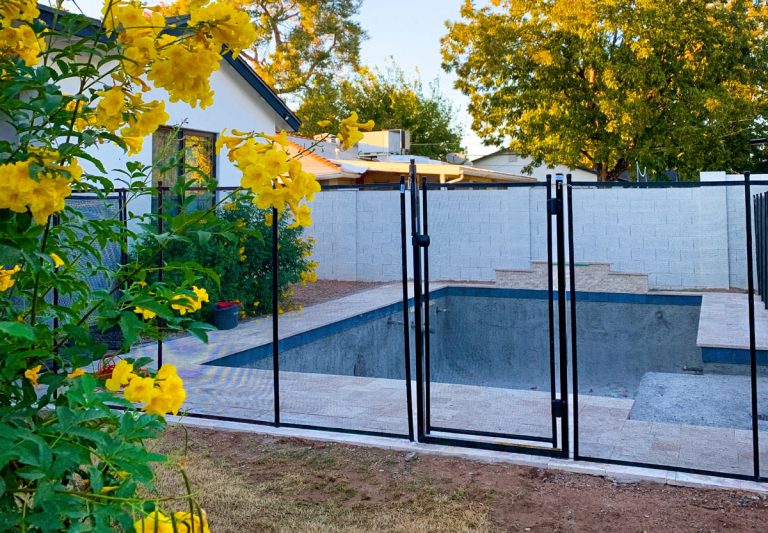 Some pool owners often wonder, "Should I consider a manual entry opening for my pool safety fence?" We know that the best way to prevent
Read More »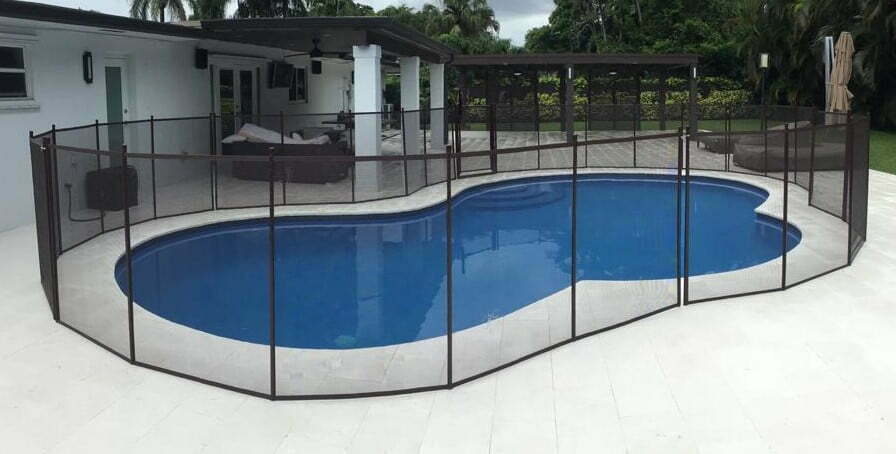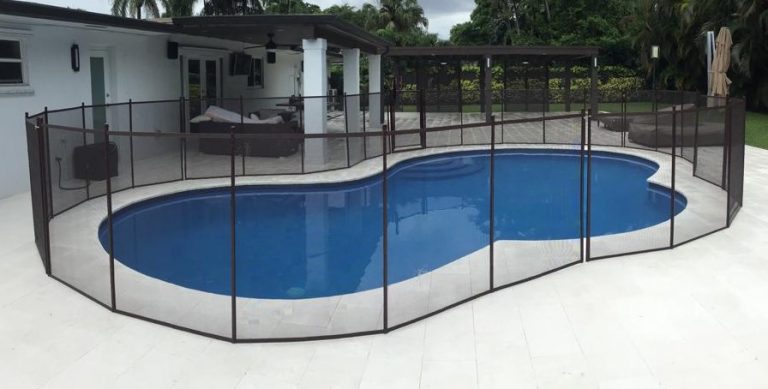 Customers often ask how close to the pool should a safety fence be installed. In most cases, the answer is about 24 inches. Your state's
Read More »
I had the pleasure of working with Randy and his team to install a safety fence around our pool. They were responsive and very reliable and I would highly recommend to any future, potential customers.
Jamey Lynch
September 25, 2023
I must say this was a great experience from beginning to end. When I called and spoke to Kim and she patiently answered my questions to Randy coming by and demoing the differences and sharing some valuable opinions on where the fence should be installed. Finally, Logan installed the fence and patiently letting me fumble around removing and returning the fence in place. I highly recommend and would use them again.
Jean Felisme
September 15, 2023
Oncare Purchasing software
September 4, 2023
Florida Pool Fences have shown excellent professionalism throughout the process. They were affordable, punctual, honest, and did a great job with installing the pool fence. I would recommend them to anyone with pool fencing needs.
Misagh Dorost
August 25, 2023
Very happy with our new pool fence. The quality is great and I can still see my beautiful pool. Logan was super helpful with his recommendations and did the job in no time!
Katie James
August 25, 2023
Outstanding service and installation; am very happy with my new pool fence.
R Willis
July 29, 2023
Great business! Everything was quick, simple, and straight to the point. The quote was competitive, they did an excellent job.
Kazia Bekins
July 25, 2023
Florida Pool Fences gets a well-deserved 5-star rating from me! Their team was professional, punctual, and provided top-notch service. The fence installation was seamless, and the final product is both durable and visually pleasing.
Raul A. Ruiz
July 25, 2023
They have really nice selection of fences. Great service all the way thru. Super nice people . Quick installation. Highly recommended!
Marcos Alonso
July 25, 2023
Highly recommended
Reinaldo Rios
July 6, 2023
Needed to re-punch holes in the patio for pool baby gate. We covered them up, foolishly, when we redid the patio surface. They were so responsive and came out quickly. Very courteous and professional and made my experience very easy! Excellent pricing as well! They really do deserve your business!
A S
June 21, 2023
Florida Pool Fences was a very professional team to deal with. From the first call to the install they were great! Highly recommend if you need a pool fence.
John Aylmer
June 21, 2023
Awesome experience with Florida Pool Fences! Randy came out to our appointment and was super informative and honest. We quoted it out with a few other competitors and ultimately landed with them because of the level of care and service Randy provided. This really makes all the difference for us. The process was super quick from start to finish! From the first point of contact to the actual installation it was about a week! The installation guys were quick, clean, and very informative as well. We are so happy to have this installed in our home because of the peace of mind it provides for us and our family's safety. Would recommended them to all our family and friends!
Arielle Sharff
June 10, 2023
Antonio Cunha
June 7, 2023
This is one of the most efficient organized quality companies I have ever had to my home. They were knowledgeable about the product did not try to oversell me. There were prompt phone and text follow ups and confirmations. The installation team was kind prompt and efficient and clean. Billing was on line and seamless. I could not say enough good things and recommend them with my highest approval. Great work!!
Bruce Eisenberg
June 6, 2023
They did a great job quickly installing a baby pool fence, and promptly fixing minor issues when discovered. A+ and super professional
Brandon Eisaman
May 28, 2023
Randy was on time, fair in his pricing and very professional in all aspects of the transaction. I would recommend them to everyone and wouldn't hesitate to use them again.
Michael Wilson
May 23, 2023
This company was very professional, quick to respond, quick to complete service. I am extremely Happy with the work and customer service provided. Would recommend to anyone who needs the job done .
Missy Hensley
May 19, 2023
I contacted them for what is probably the most important investment in my home, a pool fence for my children. They came out with material to show me (no one else did that), a ton of information and a demo! If I could give them 10 stars, I would. Look no further than Florida Pool Fences, they are truly unmatched!
David Gracia
May 16, 2023
Wow great communication and efficient service. This is the fastest service I've had in Florida
Elektra King
May 15, 2023
Randy and team at Florida Pool Fences made a custom cover for our pool. Perfect fit, install and has kept our pool clean. Thank you!!
Alexander Forbes
April 24, 2023
This is the best pool fence company in South Florida. The materials are all much higher quality than the competitors with attention to detail. The installer was very professional, came on the day we had scheduled for and even installed it quickly and perfectly. Randy takes his time to go through all the options with you so that you and your family can make the right decision. I had gotten quotes and had interactions with multiple other pool fence companies and this one was far and away the best option.
David Guerra
April 14, 2023
Randy was phenomenal from start to finish. Excellent product and communication throughout the process. Installation was quick and seamless. The pool fence looks great and most importantly will keep our 2 year old safe!!
Janine Wehby
April 14, 2023
I ordered a child proof pool fence. It has not yet been installed
Lauren Kimmel
February 22, 2023
I found this company after googling local companies for pool fences and I'm so glad I did. Randy and his team were very professional, fair, and honest. I would definitely recommend them.
Leah Rose
January 19, 2023
Florida Pool Fences did a wonderful job with our safety pool fence. Randy and his team were honest, dependable, and above-all, COMPETENT. When other companies deemed the project too difficult, Randy made it happen and saved us money to boot. Randy worked hard to get our installation scheduled ASAP, they arrived on time, and completed the job in one day as promised. Because of Florida Pool Fences, my wife and I can breathe easy when our toddler plays in our backyard.
Garrett Cher
November 14, 2022
Randy and his team were fast, professional and helpful. We had our pool fence installed in half a day on new marble pavers with no issues. Everything works great! I would use his team again without question.
Josh Halliman
September 20, 2022
excellent service! Randy is a very professional person. I would definitely recommend this company.
Alive sound Inc
November 8, 2021
Randy was great the price was good they came on time they did a professional job I'm very happy I definitely recommend
Eli Itzhaki
October 26, 2021
The absolute best and easiest company I have ever had the pleasure of hiring. They worked quickly and neatly and answered any questions we had along the way.
Sarah Hyams
August 31, 2021
Responsive and professional. I am a general contractor and I would recommend them to anyone that asked.
Jeremy Sch
August 28, 2021
They installed a pool fence around our pool. The service and communication were excellent all the way through the entire process. Even though I knew I wanted their premium product, they took the time to make sure I saw everything before making up my mind. I really appreciated that. I also needed this installed quickly and they were able to pull it off! Installation was easy and thoughtful. They just don't drill the holes in anywhere. They carefully considered all the variables and it came out so much better than I thought it would. Looks great and I would 100% recommend!!
Patty R
May 27, 2021
Phenomenal service It was a pleasure dealing with them
moishy farkas
May 11, 2021
Great company! I called Randy and he was able to come out the same day and show us all the samples and gave us the estimate that same night. He was very accommodating and we are very happy with our fence. John who installed it was also great. He was very fast professional and his work was clean.
Amanda Rivera
May 8, 2021
Great experience from the first meeting taking measurements, to the final installation. Randy was very helpful bringing up different perspectives in helping make the best choice for my family. John did an amazing job installing the fence. Easy and clean process. Highly recommend!
Jessica
April 21, 2021
Cindy Cabrera
April 17, 2021
Randy and John of Florida Pool Fences did a fantastic job installing our pool fence. We recently installed travertine pavers and have three small children, so we wanted the best and safest option for securing our pool. After talking to multiple companies and owners we decided to go with Florida Pool Fences because of the time both Randy and John took describing the installation process and safety requirements needed for our specific pool. After much thought and concern I truly appreciated the extra effort that was taken to ensure my fence would be safe and installed properly. This company is a distributor of Pool Guard fences, a national pool fence company. The installation was done in a timely manner and I was pleased with the professionalism and security of the job. My father in law has had two pool fences installed through this company, so I can now attest to three fences done well and securely. Thank you Randy and John!
Ashley Accursio
February 16, 2021